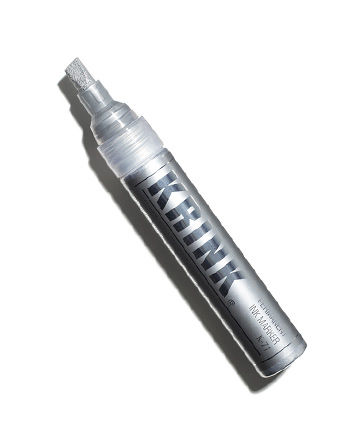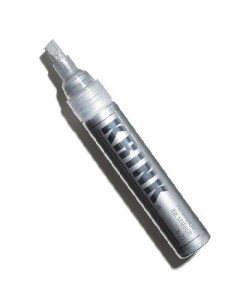 When Krink started making graffiti pens, I was hesitant. When I started tagging, there wasn't fancy brands of spray paint or markers/mops made specifically for the graffiti community.
The first time I heard about Krink putting out markers, I thought,
It wasn't until I had a Krink K-71 Chrome/Silver in my hand that I understood the power of companies who dedicate themselves to the graffiti community.
So first, let me say: Damn… The graffiti game's changed since I was a little kid.
Here we have a marker that flows incredibly well, is controllable in how drippy or clean it writes, and is specifically made to evade the buff.
Krink K-71: Everything You Need To Know
So let's get to the grit: The Krink K-71 is handmade in NYC by the man KR himself. Look, I didn't phone him up and ask if he's filling each and every marker himself but we can at least agree these pens are American made.
The K71 is a pump action pen with a felt nib. Like most pump action markers, the felt tip starts out white & dry, and after a few pumps/presses becomes soaked in paint. Pump action markers are also great for drips because you control the amount of ink or paint that flows into the nib.
The Krink K-71 Ink Review
The Krink K71 comes filled (half way) with 22mL of a loose and drippy, free flowing ink. The ink is vibrant, weather-resistant, and wont fade in sun.
Others have complained that the pen arrives only half full, but – as I've written about before – I like getting the first tank of ink of a marker emptied as soon as possible so I can fill it back up (yes, the K71 is refillable) with the ink or paint of my choice. For reference, the Krink K-71 pen holds double the amount of ink that a Uni marker holds.
Krink ink has a good reputation for surviving the buff and this marker is no different. The K-71 holds its ground when buffed, and at this point I might say Krink has the best ink on the market. See other reviews before quoting me on that.
Similar to other graffiti markers on the market, chemical remover will work when used on Krink Ink, but attempts to buff this ink with an oil-based paint will cause bleed through (especially if you have one of the bleed through colours, mentioned below).
This pen excels on smooth surfaces like metal and I don't like using it on particularly rough surfaces such rough cement, concrete, or wood. If the concrete or wood is particularly smooth, I think this pen will hold up well but I tend to stay away from these surfaces when using a felt tip marker.
How Big Is The Krink K-71?
The marker fits nicely in a front of back pocket (roughly 15cm x 2cm), and comes armed with a chisel-tip nib and a tight fitting pull-off cap.
Outside of graffiti, the K-71 broad line marker would be considered large, but within the graffiti community I'd consider this nib medium sized (roughly 0.6cm x 0.4cm). It leaves a nice chiseled line, and after being used for a while, broadens into a larger/thicker felt tip that I'm more comfortable (and happier) with.
What Colors Does The Krink K71 Come In?
When Krink first announced the K-71, he released it in four colors:
Black
Brown
Silver
Purple
Since then, the marker has received remarkable feedback and has become one of the graffiti communities favorite markers. Riding the success of the K-71, Krink extended the marker's color way by releasing nine new colors:
Red
Blue
Cyan
Green
Magenta
Yellow
Orange
Bleed Thru Blue
Bleed Thru Red
What's all this about Bleed Thru technology? I asked myself the same thing. Turns out the Bleed Thru ink is engineered specifically to bleed through the buff and ghost through several coats of oil-based paints. Excellent for evading the buff and/or toys that try and paint over your tags.
What I Don't Like About The Krink K-71
This pen's not all rainbows and daises – as mentioned I think it is not a good marker to use on rough wood and rough concrete, so where else does this pen fall short?
This is definitely an outdoor graffiti marker: It stinks, and it stains. In this sense, you don't want to be colouring sketches with the K-71.
Over-all, this pen is excellent. When the worst complaint I can come up with is to not use it on your sketches, you know Krink's doing something right.
I confidently recommend this pen for newbies in the game and seasoned vets alike. This pen is bad ass, writes well, comes with great ink, doesn't leak, and doesn't cost much (around $8 USD at the time of this writing).
Where Can I Buy Krink Products?
For the fastest delivery/shipping time, the best place to grab your Krink products are straight up from Amazon.